Over the years we have been involved in hundreds of productions for both film and TV as well as scientific and survey work. We have access to locations around the UK including London, Dorset, Devon, Northumberland, Pembrokeshire South Wales, Cornwall, Ceredigion, John o' Groats, the Channel Islands, Oban, Cork, Loch Ness, the Hebrides to name just a few.
We have worked with companies such as the BBC, ITV, S4C, Channel 4, Channel 5, Sky, Warner Bros and Fatti Films on productions such as Harry Potter, Blue Peter, Countryfile, Countrywise, Land of Dreams, Monty Halls, Under Milk Wood and hundreds more. We reckon that one of our vessels is on TV at least every fortnight.
From survey boats to large stable camera platforms, we provide charter vessels for film, TV and media solutions including:
News and Media Events
TV Productions
Blockbuster Film Productions
Special Events
Marine Surveys
All necessary safety equipment is provided with a customised approach to suit your required specifications, whether it is for TV, film or any other media work.
Vessels can be provided for camera work, film and TV set safety or just transporting cast & crew from location to base. Each vessel is provided with a professionally qualified and experienced skipper who is fully endorsed to RYA standard. Professionally qualified crew is also provided.
Safety Boats
Our boats area also perfect for use as a safety vessel for sailing and open water swimming events as well as diving operations and for projects where people are working in or around dangerous waters.
Ideal for:
Public Events
Construction Projects
Regattas
River Works
Maritime Events
Crowd Control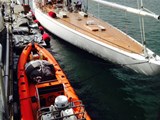 Survey Work
Not only do our vessels make an excellent camera platform with uninterrupted 360 camera views, but they also provide a convenient facility to conduct a variety of surveys for data collection and scientific study such as:
Marine sea bird populations
Ecological
Pelagic
Civil and hydrographic surveys for biological monitoring programmes
Environmental impact assessments
Conservation assessments
Bridge, Quay Wall and Marine Structure Surveys